Clutha River Rounding Another Sharp Bend
Menacing whirlpools, pressure waves and velocity of the Clutha River fascinates, as it rounds another sharp bend south of town. A sobering sight for folk travelling along its banks, being reinforced with some rock work and tree roots. A mean flow of 500 cubic meters per second, rising to 5100 /s  during a major flood, makes the Clutha River, in relation to its size, one of the fastest flowing rivers in the southern hemisphere.
History would reveal several steam powered river boats busily ferrying and carrying along the sixty or so navigable  kilometers up and down our river linking together and sustaining the lives and needs of local communities. The many towns and their industries built on our river banks were busy places, supporting development, construction, employment, business's, schooling, social and sports activities. A reliable water supply is required for the sustenance of all towns and their industries, but unfortunately our rivers were also used as a convenient drain plug.
Modern environmental issues and requirements have forced these towns, their industry and people to tidy up their habits in order to maintain the rivers health. Extraordinary steps have already taken place over the last twenty years in successfully improving the quality of our discharges and runoff from domestic, industry and rural users. Of course there are still groups and individuals who remain extremely critical, protesting about anything and everything. Although gaining exposure for themselves, they are generally unwilling to actively contribute to the slowly but surely correcting our past wrongs.
A Different Twist
Providing hosts of sporting and fun activities, sustenance and a food source for many inclined folk, our river also holds a slightly more cynical history. Sadly it has claimed many lives over the years, not all of them being accidental. I sometimes reflect on what may have happened one afternoon I followed a little Honda hatchback out of town on the rivers edge mentioned above. For some reason not totally obvious to me, the hatchback veered off the road into the long autumn growth, reared up on it's front displaying a complete typically dirty underbelly, somersaulted gaining momentum on to its nose again, bounced high into the air and completing another full turn dived into the ten meter depths of swirling, menacing and frightening turbulence as if off a diving board. Never to be seen again.
Holy cow! Kicked my gumboots off making my way through the foliage quickly as I could along the river edge. Not knowing what next, or in fact what I could even do, up popped a 'being' floundering and indeed gasping for breath among the swirling whirlpools, . All of this happened very quickly, but none the less it seemed a long time to be under the water. Luring him downstream with the currant, I finally managed to haul him up the steep bank and out of the depths of fury.
Knee caps shaking, heart beating, I realized my bloodied and sodden seventeen year old Neptune was in need of a little comfort at least. Ignoring the small bunch of gathered commuters already busy on their cell phones, I delivered my new friend to his home. His mother comforting and consoling, his father extremely distraught that his one day old gift to his son was no more. 'Poof', gone. Nothing left to be seen of his investment. Although having seen it, I had problems explaining through the increasing anxiety before me, so I reluctantly left, suggesting attention should be more focused on the young man coming into shock, and the old man coming out of it.
What next? Road blocked off. Lights of Fire engine, Ambulance and Police. A bunch of foreign tourists, fingers pointing at my approaching vehicle. An enraged policeman who missed a photo op. I must say, had I left my young adventurer bleeding and hypothermic on the side of the road, would of avoided significant official and personal grief. I left to go about my own business with a feeling of slight gratification and amusement.
We do things a little different these days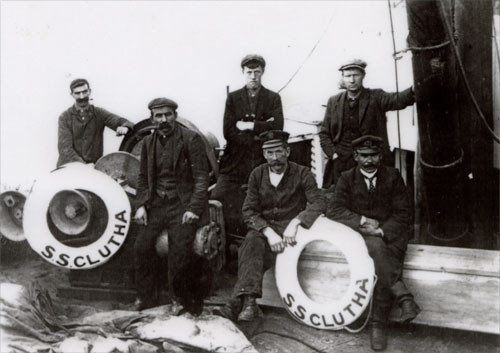 .
Some descendants of this crew  
still live locally
This punt is still used today.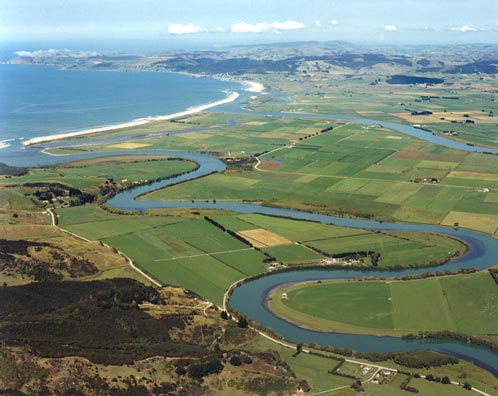 The Clutha River divides in two, twenty kilometers upstream just south of town
  Well upstream

Clutha River's bridge at Balclutha
The Clutha River keeps flowing by while an unreported lost Honda Civic remains wedged 
somewhere in its depths.